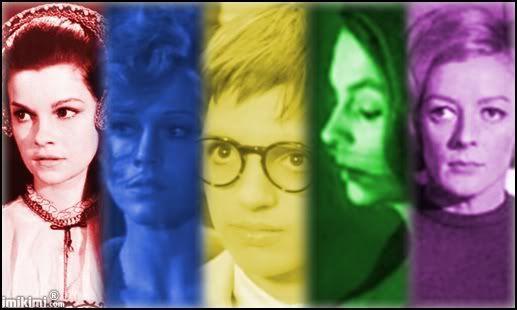 ---
- Bujold holds no emotional depth in her performance, never finding her way around the camera. She takes it all in stride, and manages to look hazy eyed and cute as the ill-fated Anne.
4. Maggie Smith in "The Prime Of Miss Jean Brodie"
- A single woman tour-de-force if there has ever been one, Maggie Smith captures the feminist and dangerous spirit of Jean Brodie so beautifully, that it all looks seamlessly easy. Her haunting performance leaves me speechless and much as her students.
3. Jean Simmons in "The Happy Ending"
- Another single woman tour-de-force, Jean Simmons holds herself together no matter how many cliches the script wants to throw at her. She shows her character's despair, heartbreak, and finally failed rejuvenation throughout the entire experience.
2. Jane Fonda in "They Shoot Horses, Don't They?"
- Jane Fonda plays her deeply depressed character in a straight forward way, yet her performance is never on one-note. She is fantastic at showing her character's inner most demons that is are always apparent, but often forgotten - a true testament to her acting abilities.
1. Liza Minnelli in "The Sterile Cuckoo"
- In this fantastic year, it could go any four ways, but I go with Liza because her performance contains a freshness that is wonderful to rediscover. Her bittersweet humor, her constant ability to transform herself between comedy and drama is amazing.
---
Honorable Omissions: Ruth Gordon in "Whatever Happened To Aunt Alice?", Patricia Wymer in "The Babysitter", and Geraldine Page in "Whatever Happened To Aunt Alice?".