Piper Laurie received her first Oscar nomination for playing Sarah Packard in The Hustler.
The Hustler is an absolutely terrific film about the life of barrooms and pool-halls. It's amazingly shows the life in such a gritty, yet optimistic life that it becomes a great story, full of life and vitality. It's the story of a small-time pool hustler who must work his way up the ladder, he has the talent but has a self-destructive attitude which easily brings him down.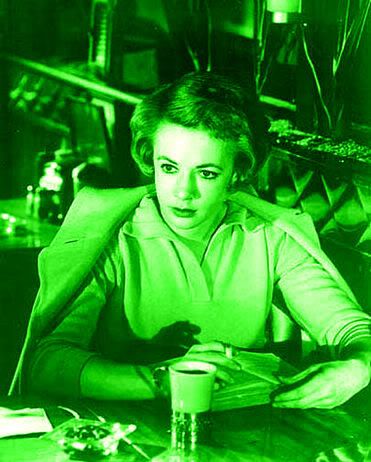 So where exactly does Piper Laurie fit into this film about men? She plays Sarah Packard, a bitter alcoholic who writes short stories. She is extremely despondent to the world around her, only finding some sort of comfort in Paul Newman's Fast Eddie. She is lonely and deep in her addiction to being a bitter woman (not to mention her booze problem). Piper Laurie's performance immediately becomes damaged due to playing a drunk, you really have to know how to play it without being totally over the top, and unfortunately, she doesn't do it for me.
She is a sad woman, yet I as a viewer didn't totally buy it - she's supposed to be the kind of woman one would want to get rid of as soon as you're done sleeping with her, yet Piper Laurie makes her such a pathetic character you can't help but feel her, if that completely makes sense. She doesn't play a bad girl or a good, yet lost girl, it's really neither and doesn't have a real focus. Laurie's theatrical acting also manages to be unbearable when she is trying to sell a scene, like when they first meet, it's so obvious Laurie is trying to devour the screen it becomes laughable. She manages to evoke feelings out of the viewer, but they are the wrong ones, always looking for the viewer to sympathize with her character who is lost and completely distant. A bit lost, a bit right, but totally overdone.