Jean Arthur received her only Oscar nomination for playing Constance Milligan in The More The Merrier.
The More The Merrier tries to accomplish alot of things. It tries to be an insightful look at housing shortage during WWII, it tries to be a very big slapstick comedy, and it tries to be a charming romance. For me, it really only succeeds in one department: the romance. This is no serious drama, so the "message" of the movie falls flat and while the comedy is fine, it is very repetitive and there's really nothing laugh out loud funny about it. The story of a woman, during the war, who rents out half of her apartment to an older man who ends up renting out half of his part to a much younger man. She at first is appalled, but grows to like the man and his charm. And of course, they fall in love.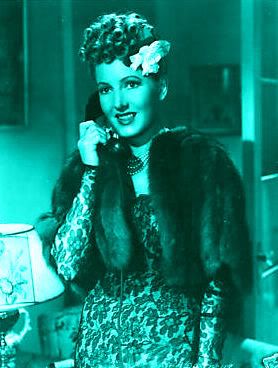 Jean Arthur plays Connie Milligan, the seemingly lighthearted woman. The film reveals Connie is much more troubled then meets the eye - her fiance is very boring and seems to have no interest in her. What's immediately noticeable about Jean Arthur is how flighty she is. Quite an interesting way to play Connie, and that brings me to another point: how troubling Jean Arthur's performance is.
While everyone else gets to dip there toes in the comedy (even though it isn't that good) Arthur mostly gets stuck with the serious material, making her look very...cute when the camera is finally on her. I didn't expect much emotional depth with this material, but that's really the only requirements of Jean Arthur here: too look gorgeous and smile predominately when the camera is on her. Still, there are some things to admire, like how Arthur does have a good presence on screen, and her performance is utterly harmless and for most people, probably watchable. But, an amazing performance, it is not.