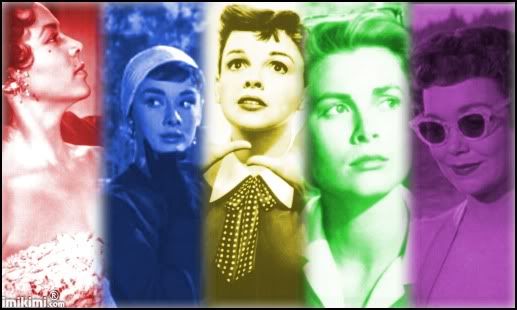 ---
5. Dorothy Dandridge in "Carmen Jones"
- Dorothy sings and makes history. Unfortunately, her performance is so bland that a historic nomination seems utterly nonsensical. She bursts into the movie and never holds back, but everything is lacking, missing some sort of depth that would give this mess some light.
4. Grace Kelly in "The Country Girl"
- Lost and confused in most scenes, her deglam is what carries her for the most part. She doesn't do anything successfully: getting the characters complex emotions fully across, showing her quiet and reserved love for her husband, etc.
3. Audrey Hepburn in "Sabrina"
- All Audrey Hepburn really had to do was smile for the majority of her role and she does it quite nicely, but I'm not one to fall for her 'style' (?). Her act goes so far, and she wears it out very quickly, giving what seems like nothing to her scenes.
2. Jane Wyman in "Magnificent Obsession"
- Jane Wyman gives the oddest performance here, but a good one at that. Her best moments are surprising ones that I didn't expect and what seems like Sirk helping her. Still, there is some murky water floating in her performance that prevents it from ever being totally great.
1. Judy Garland in "A Star Is Born"
- I am hardly a fan...at all, but there is no denying Garland sticks out this year above the others. I don't care for her musical scenes and most of her emotional scenes show her seams as an actress, but their are some things to admire. Like how she can deliver lines like a pro and cry on cue - she does give a good performance, but not one I particularly like. She is my least favorite of my chosen winners.
---
Honorable Omissions: None.